Fools Mission has not yet founded a school. But the revelations that pour out of our accompaniment practice often inspire dreams of doing just that. So long as public schools and teachers are under-valued, under-funded, and under attack by corporate interests that seek to privatize public education, Fools Mission will teach and learn as a community and keep our educational programs responsive and relevant to the people we serve.
In addition to the street level education that we receive when we share our stories and engage in witness, accompaniment, advocacy, and arts, we also create education programs such as tutoring, book discussion groups, street retreats, and immigrant education.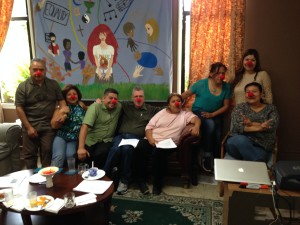 Our street-level education begins with members of the Fools Mission community who meet twice monthly as a covenanted decision-making group that we call The Fools of the Round Table. In this vision circle, everyone is a teacher and everyone a student. We build a shared pool of meaning when each of us contributes what we know.
Tutoring
Each week, volunteers from Fools Mission tutor grade school children in the public library, building relationships of concern that make a difference in a child's life. Everyone is changed by the experience, and the resulting improvements in student skills are a great source of satisfaction to students, parents, and tutors alike.
Book groups
Each month, members of the Fools Mission community gather with day laborers who live in a residence in the Fair Oaks neighborhood owned by the Catholic Workers. We are currently reading a series of autobiographical novels by Francisco Jimenez. Jimenez' inspirational story began when he entered the U.S. as part of a family of migrant farmworkers. Ultimately, he retired from Santa Clara University's Department of Modern Languages and Literatures, where he also served as Director of the Ethnic Studies Program. But this gripping tale is only part of the book group experience. Native Spanish speakers join English speakers, each reads and hears in the language of the other, and magic happens.
Street retreats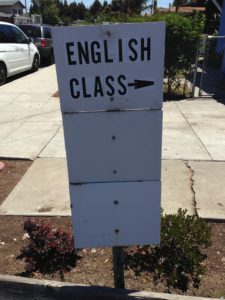 Members of the Fools Mission community also slow down once a month and walk the neighborhoods of Redwood City together. Conversations spring up with people from all walks of life.
Neighborhoods, businesses, and institutions put their unique personalities on display. We learn things about one another that we didn't know before. When we empty our minds of our internal chatter about the world, it reveals itself on its own. Magical! You can't learn this much about your town by driving by in your car.
On one of our retreats, we encountered a homeless woman along the Broadway corridor of Redwood City who was clearly having a bad day. After 20 minutes of conversation, her face began to brighten as she realized that we were genuinely interested in hearing her story.
As it turned out, we Unitarian Universalists were about to have a revelation of our own. The homeless woman's name was the same as her grandmother's—and her grandmother was the first female Moderator of what was then the American Unitarian Association in the 1920s. The grandmother also served as President of Mills College. We headed for home with shattered assumptions about how things play out within the stereotypically privileged confines of Unitarian families.
Immigrant education

Under the energetic leadership of fool Silvia Ramirez, Fools Mission sponsors regular education sessions on topics of great importance to the immigrant community. Some guest speakers offer professional services at no charge, including legal consultations. Fools Mission has presented education sessions on all of these topics:
Accessing health care
Obtaining a drivers license
Immigration law and immigration reform
Discipline in public schools
Renter's rights
Housing discrimination
---
To learn about the role of expressive arts in our ministry, click through to the next article: