At Fools Mission, we use the term witness in a spiritual sense rather than a legal one. For us, witness is an act of faith. We value direct experience of people's lives more than assertion, advice, or judgment. We trust that every conscious observation, thought, or gesture changes the world—beginning with ourselves. To make a difference in a single life is, for us, the embodiment of the reward that we seek; and our lingua franca is kindness.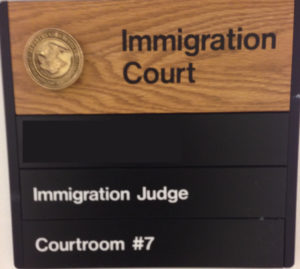 We accompany people wherever they encounter bureaucracy or "the system"—such as applications for public health insurance or food stamps, medical appointments, legal consultations, disability offices, police stations, school district meetings, or courts. There is no substitute for the street-level learning experience that privileged and underprivileged alike gain from these activities, because everyone engages in the work as equal partners who seek clarity and empowerment together.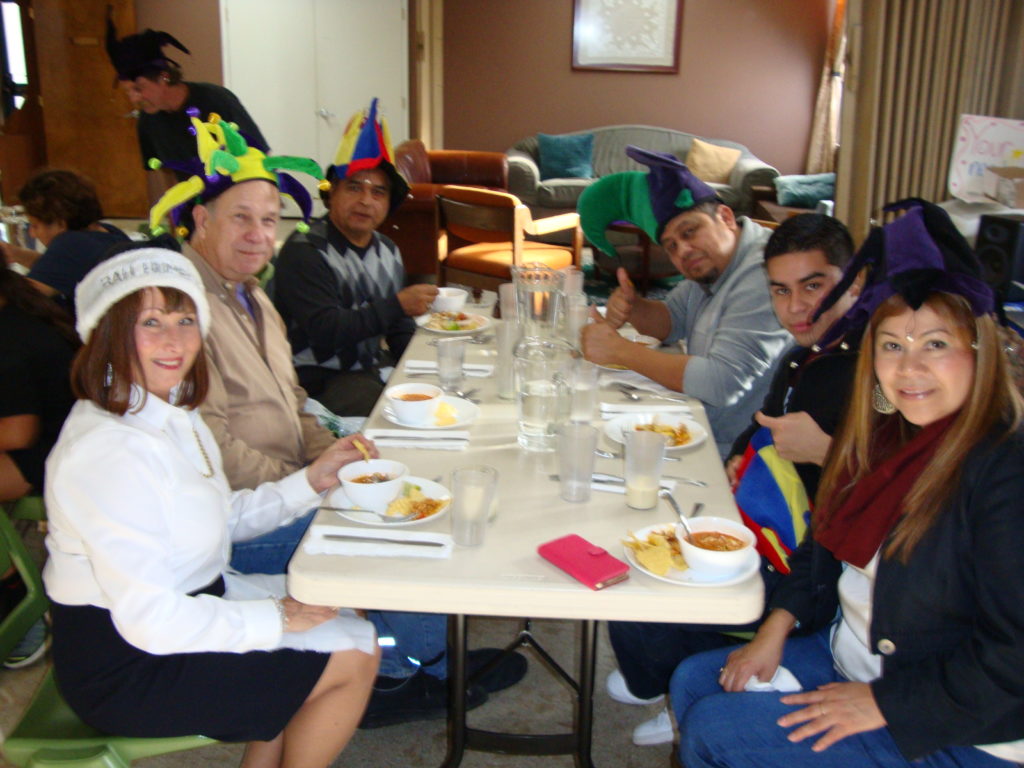 Torn Apart
Fools Mission began as an immigration story, though our identities as fools benefited from years of association with an organization in San Francisco called the Faithful Fools Street Ministry. In 2009, co-founder Thomas Atwood accompanied a mother of six kids through a harrowing deportation process that threatened to tear her family apart.
A few months earlier, the father had been detained by Immigration and Customs Enforcement (ICE) as he was leaving for work. His subsequent deportation had left the family without their breadwinner. As they took him away, the ICE officers told the mom that if she turned herself in, it might prevent him from being deported. This reassurance turned out to be false, but she heeded their advice—and before the day was out, she was caught up in deportation proceedings of her own.
Within a few weeks, the family had been evicted from the house they were renting in San Mateo, California. Now homeless, they spent four months in shelter housing as they gathered the resources to stabilize the family and move into an apartment.
Mr. Atwood was present for her hearings at the immigration court in San Francisco, along with family, clergy, and friends. A reporter from the San Jose Mercury News, Ken McLaughlin, was also present, scribbling furiously in a notebook. In the lobby, his partner Dai Sugano awaited opportunities to capture the family's struggle to survive on video.
The mom identified Atwood in open court as "my brother," which broke open his heart to a new kind of familial relationship. To this day, they are hermano and hermana—and after winning her case, this video documentary—Torn Apart—became one of the top Mercury News stories of 2010. To watch, click on the image—it is 29 minutes well spent:
During the course of the proceedings, the incipient Fools Mission community received a street-level education about how deportation destroys families. And to this day, the family credits our accompaniment with providing resources and companionship that they needed to survive this traumatic experience.
More immigration court
Fools Mission encounters many single mothers who are raising kids on their own—a strenuous and stressful life under any circumstances, but harsher still when poverty or the loss of a breadwinner are added to the mix. We've accompanied many people through this kind of struggle. When a father of five children was deported to Guatemala in 2012, Fools Mission passed the hat and provided financial assistance to help the family raise first and last month's rent and a security deposit. Years later, we still enjoy a lasting peer relationship. The family is part of our social circle, as are many who have benefited from our accompaniment. To this day, Mr. Atwood takes her son and his cousin on movie outings.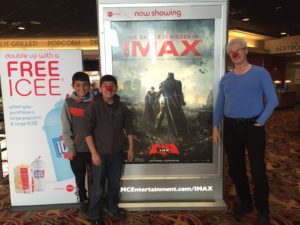 As with all relationships, our social connections do not always continue after the crisis has passed. Sometimes the people we accompany misunderstand our purpose, have little or no free time, or choose not to remain part of our community. They move on after their situation is resolved. Nevertheless, our purpose is to build community across socially-constructed boundaries of language, culture, and class—and we succeed at this, despite the obvious barriers imposed by the diversity of social statuses and identities in play. Fools Mission is where social justice meets kinship.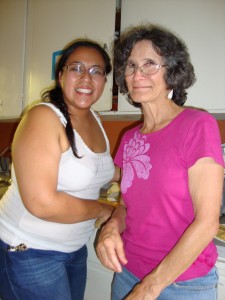 When another deportation separated a successful tradesman from his wife and four kids in 2013, Fools Mission organized a fundraiser to help the family with their transition to life without their husband, father, and breadwinner. Over 30 US citizens and immigrants came together to share a potluck dinner, watch a PBC documentary about immigration detention, and pass the hat for the family.
Many more participants from all walks of life attended a traditional Mexican Kermes the next day to share food, magic, karaoke, and children's activities.This weekend fundraiser collected nearly $3,000 to support the family during their transition. Equally important to our mission, people came together across racial, educational, and class boundaries to listen and learn about each other's lives.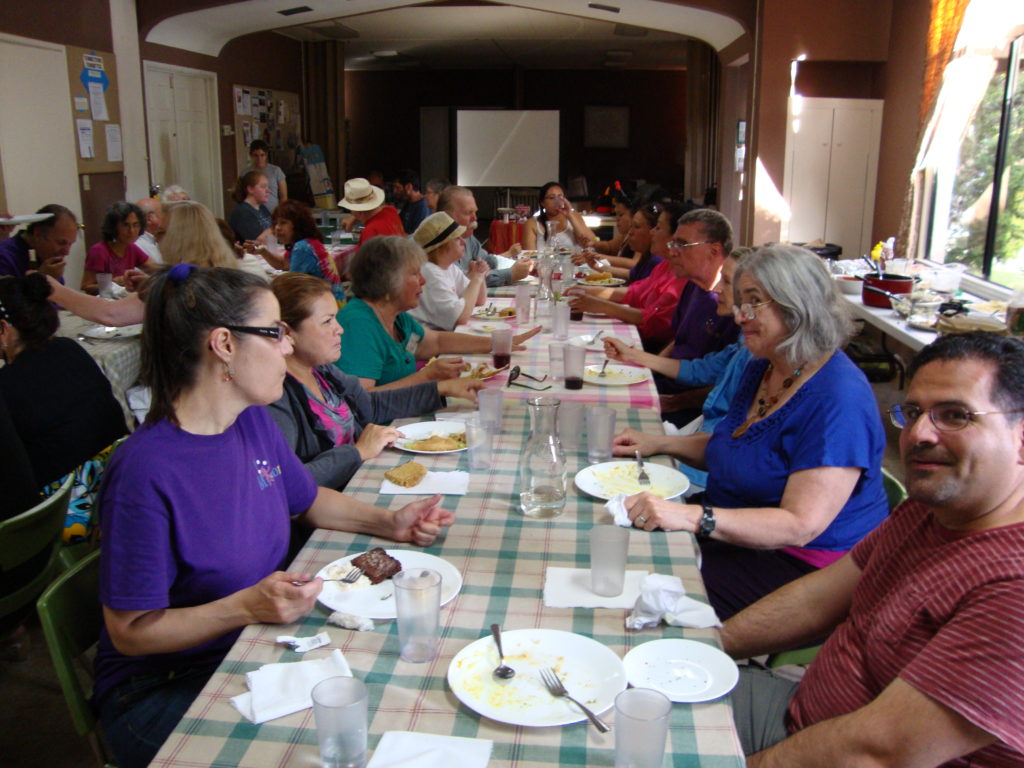 "Voluntary departure"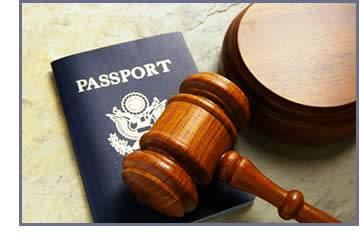 In 2015, an immigration court granted "voluntary departure" to the father of two young children and deported him to Mexico. The mom had already vacated their San Jose apartment and moved into shelter housing because she couldn't pay the rent with the family breadwinner in detention. An unmotivated public defender didn't even request access to his personal effects—asserting in open court that he "thought they had $500" to pay for his return trip to Mexico. (Not so.)
Well aware of the risk of being placed in deportation proceedings herself, the mother was rightfully afraid to appear at the hearing. The kids never got to say goodbye, and within a day the father found himself alone in Tijuana without his phone, clothes, money, or passport. Fortunately, Fools Mission was able to send some money to his sister in Mexico City so she could make the 30-hour drive and pick him up. Situations like this can be harsh and demoralizing for anyone who witnesses them. But they validate our mission by demonstrating why supportive companionship like ours is necessary.
Increasing layers of separation
Immigration courts have begun using videoconferencing services for court appearances instead of transporting prisoners to their hearings from remote detention centers, introducing an additional layer of separation from detainees who now parade by in brightly-colored jump suits on a flat screen TV. Potential deportees can no longer have private conversations with their attorneys. Even immigrant-friendly people like us sometimes have trouble distinguishing one prisoner from the next—a direct result of increasingly dehumanizing practices like these. Our hearts also go out to the unhappy bureaucrats we see in court, whose capacity for empathy and kindness is also undermined by objectification of the human beings whose lives hang in the balance. In some instances, undocumented immigrants win their "Cancellation of Removal" case. In others, our only recourse is to console a family who just lost a beloved spouse or parent.
Over the years we've passed the hat many times in situations where the ravages of poverty or deportation threatened to destroy families. We've ransomed impounded cars, paid accumulated citation fees, provided financial assistance to people whose rent increases were greater than $1,000/month, and put up evicted tenants in motels.
Bike repair in the neighborhoods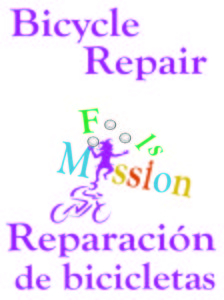 Sometimes witness and accompaniment leads us to perform services to the community. One of our programs brings fool Michael Withers to the Maple Street Shelter, St. Anthony's Dining Room, and other locations in the neighborhoods to repair bicycles and distribute them to those in need, homeless people in particular. In a place like Redwood City, which isn't "walkable" in any practical sense, the availability of bicycles is is a genuine gift to the community that can meet both everyday needs and the life-and-death variety.
Domestic violence
Members of our community have also expressed gratitude for our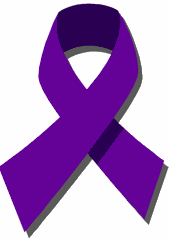 accompaniment in their domestic violence cases. We've walked with a number of parents who were separated from their children by domestic violence, and our hearts are troubled by the painful choices they face as they interact with the police officers, restraining orders, social workers, district attorneys, therapists, lawyers, and hearings that send mixed messages about how to deal responsibly with people they love. It can be a humbling experience to encounter people willing to share this deeply complex and personal experience with us. Our express commitment to ourselves, and to those we accompany in cases where protective services get involved, is to observe confidentiality and respect each person's right to make their own decisions.
We've provided financial assistance to help domestic violence victims stay in a motel temporarily, or to furnish an apartment with an extra bed for a visit from a social worker. We've accompanied families whose lives are thrown into turmoil by events as straightforward as a change of the social worker assigned to the case. We've seen with our own eyes clients whose successful completion of programs and services are ignored in reports to the court. We've read reports from social workers that swept client compliance and progress under the rug, and read more like personal animosity than evaluation of evidence. We've seen family courts place parents in repeating cycles of hearing and mediation sessions that lead to neither resolution nor reunification, and belie the avowed public interest in keeping families together. We've learned how "mediation confidentiality" can prevent even the judge from learning relevant facts in a case. Our continuing mission is to invite established citizens to experience events like these for themselves, rather than relying on the assertions of pundits.
Health care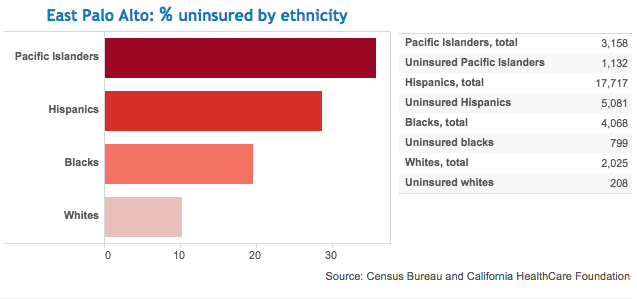 Fools Mission once accompanied a young man who lives on roughly $400 a month to an intake appointment at the Health Coverage Unit in San Mateo County. He was denied coverage the first time he applied for their health insurance program for indigent adults—but in the presence of a witness, all became clear. All he had to do was provide a profit and loss statement to identify the sources of his income. He was enrolled in the MCE (Medicaid Coverage Expansion) program, and saw a doctor the same morning.
Years later, his coverage was suspended for reasons that weren't clear to us. Another visit to the County revealed why: he had referred to himself as an "independent contractor" in his statement, which was an inadvertent misuse of legal terminology. According to tax law, independent contractors submit a Schedule C to the IRS, and the County expected copies of the form as supporting documentation. We revised his statement to characterize him as a "day laborer" instead, and his coverage was reinstated.
Over the years, Fools Mission has helped people connect with life-saving medications when Medi-Cal was unable to process prescriptions because a patient had moved across County lines. We've accompanied people to medical and dental appointments. In some cases, we've connected people with medical or dental care by leveraging social connections, despite their lack of insurance coverage.
Child custody
Fools Mission provided supportive companionship in a child custody case for a long-standing member of our community. When it became clear that very little of her progress was getting into the record, Fools Mission accompanied her at hearings, testified as character witnesses, and wrote a letter of support to a social work supervisor. We all breathed a sigh of relief when she eventually regained custody of three of her kids.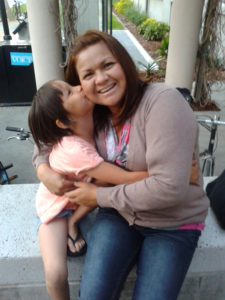 Six months went by without the mom seeing her youngest daughter, despite court-ordered visitations. Fools Mission stepped forward in the Superior Court of Santa Clara County to serve as a Non-Professional Provider of Supervised Visitations, and helped to mediate conflicts between the parents. The mom now sees her daughter on a regular basis, and the court has recognized Fools Mission at review hearings for its commitment to service. Her arduous quest to reunite her family continues to benefit from our accompaniment as we walk with her at hearings and write letters of support. Empowered by years of participation in the semi-monthly round tables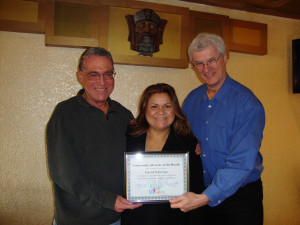 where we share stories, this once-shy woman now participates in outreach events, publicly sharing her story of how our accompaniment helped her family. Her bilingual skills are a great benefit to us as she translates for others. At Fools Mission, the giver and the receiver become one.
Public schools
Our accompaniment practice has also proven useful in school district meetings. When an honor student at a local high school was accused of failing to meet residency requirements, we didn't understand his pending expulsion—given that the family was paying rent to an uncle who lived in the school district so he could attend. Investigators tailed the family car as they went about their daily activities, and entered the uncle's home to interrogate the children. Nine-year-old kids were asked questions like, "Where do you put your head down at night?" "Whose toothbrush is this?" and "Why are his clothes in a bag on the floor instead of hung up in the closet?"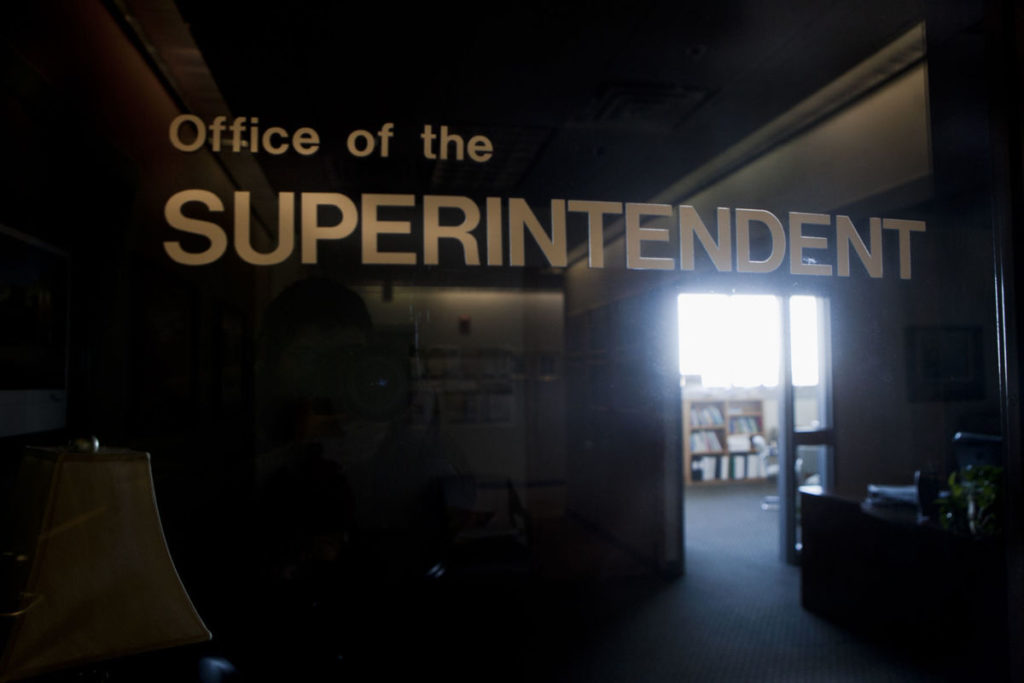 We scheduled a meeting with the Superintendent to try to make sense of the decision. It soon became clear that the family's compliance was not being challenged as much as their lifestyle. In the meeting, we did the math demonstrating that anyone who earns $10/hour has to work 74–92 hours per week to pay the rent on an apartment in San Mateo County. Immigrant families like this one typically house seven or more extended family members in a small apartment to make a go of it—yet our explanation was greeted with blank stares, as if none of the educators in the room were aware of the struggles that low-income families face here.
The high school student was active in sports and music ensembles, and had a 3.5 grade point average. Occasionally, he slept at a different aunt's house to get an extra hour of sleep before football practice. Nevertheless, his family lived in the district and paid rent there. The first casualty of the decision was that the family had to move out of the uncle's apartment. (Undocumented immigrants typically want to stay in the shadows, and further visits from investigators were out of the question.) Subsequently, the family found another apartment within the school district, and the student was reinstated at his school. And because of our accompaniment and advocacy, his exile lasted only six months instead of the usual full year.
Our accompaniment was a significant source of support for the family, who appeared to be as upset about the accusation of "lying" as they were about the expulsion itself. A few weeks after the experience, former Secretary of Labor Robert Reich published an article that revealed our story to be part of a national trend. (See Patrolling the Boundaries Inside America.)
Accompaniment everywhere!
Father Greg Boyle, a Jesuit priest in Los Angeles and founder of a ministry to Los Angeles street gangs called Homeboy Industries, eloquently described the power of accompaniment when he said:
"You actually abolish slavery by accompanying the slave. We don't strategize our way out of slavery, we solidarize, if you will, our way toward its demise. We stand in solidarity with the slave, and by so doing, we diminish slavery's ability to stand."
Fools Mission has accompanied members of our community in many other settings, including disability offices, food banks, police stations, and the Department of Motor Vehicles. Sometimes the presence of a bilingual fool with personal gravitas can resolve conflicts within the Spanish speaking community itself. One of our fools who fits this description immigrated from Chile in the 60s, came to New York City with no money or English, and then went on to earn a PhD in material sciences from Columbia. More than once, Latino parties to a conflict have addressed him as "Don" Alejandro (not his real name). At Fools Mission, we welcome assistance from any source—even unexpected sources like patriarchal constructs of social status or "honor and shame."
This direct access to the daily, lived experiences of the people we accompany is integral to our discernment process as fools. For the most part, we learn about the human condition, and the role of socially-constructed identity and privilege in the way the system treats people. While spiritual practices of meditation and reflection encourage us to cultivate detachment from outcome, sometimes our presence as established citizens with access to the privileges of society can make a difference for the better. Regardless of outcome, we can think of no better way to learn about the role of classism and racism in institutional behavior.
---
Fools Mission does a lot more than witness real-life experiences and accompany our friends. We also advocate for more just treatment for everyone.
To learn more, click through to the next article: